Velocity Youth ministry:  "Running to obtain the prize."  For 6th-12th Graders.  Provides a place where teens can figure out who they are in relationship to their Creator.  We provide a relaxed atmosphere where young people can share from their hearts, and they can learn how much God loves them and what he has planned for their lives.  Velocity Youth meet on Wednesday evenings at 6:30 pm where we have worship, games, and the Word of God.  Other activities on the calendar are All-nighters, Laser-tag, Game & Pizza nights & more!
CURRENT SERIES:
The Book of ACTS
UPCOMING ACTIVITIES (details & signup in foyer):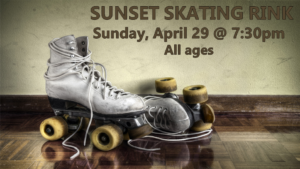 -Rollerskating on Sunday, April 29 @ 7:30pm at Sunset Skating Rink.  Cost is only $2 if you sign up at Mifflinburg Assembly ahead of time and be at the door at 7:30pm so we can all go in together.  Be aware that rink is open to the public that night and will cost more if you didn't sign up with us.  All ages welcome.
-Young Adults & Youth Lastertag on Saturday, May 5th.  Outdoor lasertag is AWESOME!  Leaving the church at 1pm.  Start in State College at 2pm.  Is only $25 for 3 hours of play for our group!  (If someone from our church invites a friend who isn't from our church it is only $15 for each of them).  Find online waiver at https://app.waiverforever.com/pending/KLcc6PmbAG1436540269 and you'll have to fill out one for our church too.  You can find it on the Velocity Youth Facebook page.
-3 Point Basketball Shootout on Friday, June 8th.  Registration starts at 4pm and competition starts at 5pm.  $75 for 1st place, $50 for 2nd and $25 for 3rd.  Lots of other prize drawings.  Totally FREE!
PAST/ANNUAL EVENTS:
Youth Bash, Lasertag, Summer Retreat to North Carolina, Youth Convention, Allnighters and LOTS more!